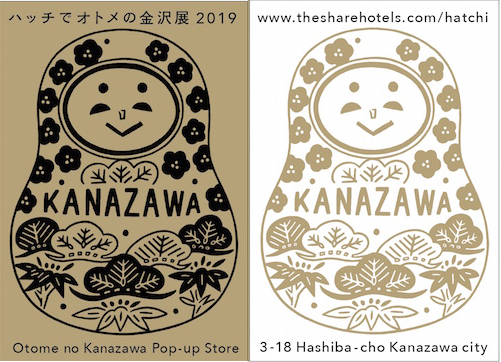 2019.09.05
[End] 9 / 6-11 / 30 Otome's Kanazawa Exhibition in Hatch 2019
[9 / 6-11 / 30 Hatch and Otome Kanazawa Exhibition 2019]
This fall, we will also be holding "Otame Otome Kanazawa Exhibition 2019"!
From about 70 writers and shops, Ishikawa Prefecture's delicious and delicious products line up.
Whether you are a local kid or a traveler, please visit the Kanazawa exhibition of HATCHi Kanazawa's Otome!
■ Period: September 6, 2018 (Friday) to November 30, 2018 (Saturday)
■ Business hours: 7 am - 11 pm (only the last day until 5 pm)
■ Location: HATCHi Kanazawa -THE SHARE HOTELS- (3-18 Hashiba-cho, Kanazawa-shi, Ishikawa)
■ Inquiries: 076-256-1100 (HATCHi Kanazawa)
※ Please understand that the content has the possibility of change.
★ 10/19 (Sat) 18: 00-20: 00
"Preparing confectionery workshop"
Lecturer: Japanese sweet shop Hayashi, Kenichi Tachibana
★ For the latest information, see "Otome no Kanazawa" on Twitter!
Kenichi Aoyama (skull towel) Kaeko Akaike (illustration goods)
Atelier taffeta (embroidery brooch) Kota Arinaga (glass) Shin Anzai, Atsuko (ceramics)
Mayumi Ishikawa (Futaba Japanese paper) Kazuzo Ino (Gold leaf brooch) Mio Imae (Kutani ware small plate, barbarian)
Akiko Imajo (plant accessory) Haruhiko Iwasaki (pottery) Iwamoto Kiyoshi Shoten (Kiri Crafts)
Echake Editorial Department ("Echake") Yuki Osako (Glass) Otome no Kanazawa (Card)
Oyoyo Shorin Seseragi-dori (used book, old picture book) Kaga Temari Ashiya (Kaga Temari, Hariyama)
Kanazawa Minkkei editorial department ("Kanazawa Minkkei") kappa-do (Kappatama soap) Kamide Nagaemon gate (Kutani ware)
KUTANI SEAL (Kutani ware) KiKU Yugo Takeuchi (cutlery) Mai Kitai (bean plate)
Craftsman (woodwork such as chopping board) Kobo Ametsuchi (Kutani ware's book bargain) kotohari
collabon ("Suso Akiko's Lonely Burial Club", dango towel
Natsuko Seike (Lacquered process earrings) Shigekana Rie (Glass accessories) Shoda Harumi (Kutani ware)
Akihiko Sugita (lacquer) Suzuxato (container) Yuko Suhara (lacquer) Takuma Pottery (pottery)
Chie Tateno (Babush) Kyoko Tanabe (Kyotani ware) Sento Semizuki (Mizuhiki accessories)
Atsumi Tada (Glass incense) Dougami Miko (Ceramics) Toshiko Nakajima (Jimono accessories)
Yuichi Nakata (Utsuwa) Meiyoenzo (lacquered spoon) Miho Nishikawa (brooch / cutlery)
Noto Design Room (Cuckoo Clock / Atte Goods) Norikazu Hatta (Mini Daruma)
Ride-over (original pouch) Hakowotsumu (gold-pika box, fluorescent box) Hiromi Hyoi (leather accessory)
Harushima Samejima (cut glass) Hiromi Hirota (hand-spun indigo-dyed accessories)
Fukumitsuya (tenugui, work gloves, wooden mallet) black coffee (glass accessories)
benlly's & job (Coffee goods etc.) Mamemoto Kobo Wakai (Mamemoto "Delicious Things Encyclopedia")
Shantou very much (Illustration goods such as caps and socks) Hachiro Hachibei Shoten (Needle, Sewing Set, Oden Waiting Needle)
Kiyoko Morioka (ceramics) Saaya Yamagishi (lacquered chopsticks and accessories) Naoko Yamazaki (stencil dyeing)
Yamazaki hemp fabric workshop (Noto Jofu no Gamaguchi) Miwa Yamazaki (Ceramics) Tomomi Yamada (Suzu ware)
Aya Yuki (container) Daisuke Yoshimoto (Kaga Yuzen pattern handkerchief) Rakuya (food towel)
Rokuroku Kobo (bean plate, brooch) Amanatto Kawamura (Japanese sweets) Kanazawa Komachi (baked sweets)
NOTE (Herbal Tea) Herb Farm Pezan (Japanese Sangria Sangria)
HUG mitten works (Himedaruma cookies, etc.) Maruhachi tea ceremony (Kaga stick tea)
Musharila Mushariro (Chai MIX, Kanazawa's plum dried plum and vinegar), etc.